Director and deputy director of the Institute for Intellectual Property of BiH participated in the work of the WIPO assemblies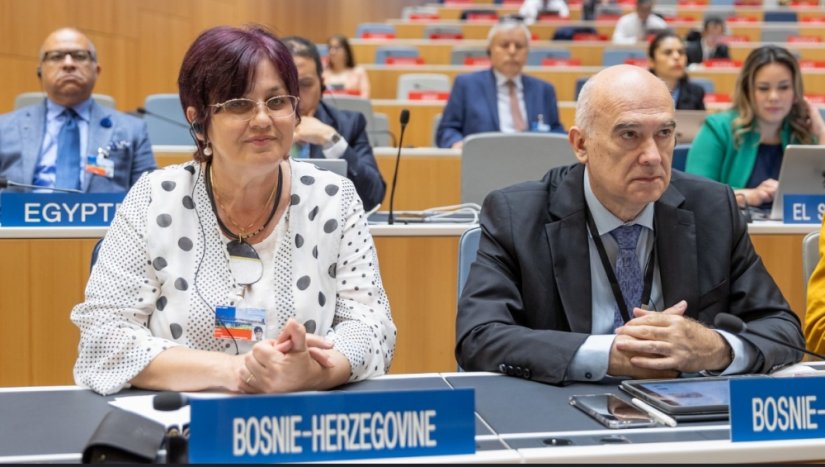 Mostar, July 17, 2023 - Director of the Institute for Intellectual Property BiH Josip Merdžo and deputy director Ljubica Kozić participated in the 64th series of meetings of the assemblies of member states of the World Intellectual Property Organization (WIPO) held at the WIPO headquarters in Geneva from July 6 to 14, 2023.
About 1,200 delegates from 193 WIPO member states participated in the assemblies of WIPO member states, which is the largest number in the history of the organization.
In a welcoming address, WIPO Director General Daren Tang updated the forum on progress made by the WIPO Secretariat on implementation of WIPO's strategic plan endorsed by delegates two years ago to make intellectual property a powerful catalyst for growth and development throughout the world. He cited a new and continued focus on impactful projects that connect intellectual property (IP) with people around the world, as well as to address common global challenges and sustainable development goals.
Through the meetings, delegates were working to finalize a work program and associated budget for the Secretariat during the 2024-25 biennium. During that two-year period, delegates are scheduled to meet in a pair of "diplomatic conferences," or final-stage treaty negotiating rounds, to address two issues: the protection of designs; and IP, genetic resources and associated traditional knowledge.
On July 11, WIPO presented seven winners of the 2023 edition of the Global Awards program, which recognizes exceptional enterprises and individuals using intellectual property to make a positive impact at home and abroad.
This year, small and medium-sized enterprises (SMEs) from China, France, Kenya, Mexico, Singapore, and Slovenia are the winners of the second edition of the annual competition.
On July 12, stakeholders celebrated the 10th anniversary of the Marrakesh Treaty, which eases the production and international transfer of specially adapted books for people with blindness or visual impairments.
Throughout the Assemblies, meeting July 6-14, 2023, member states and others held events to celebrate culture, technology and the importance of relationships in the world of international collaboration for the common good.