Institute participated in JobFAIR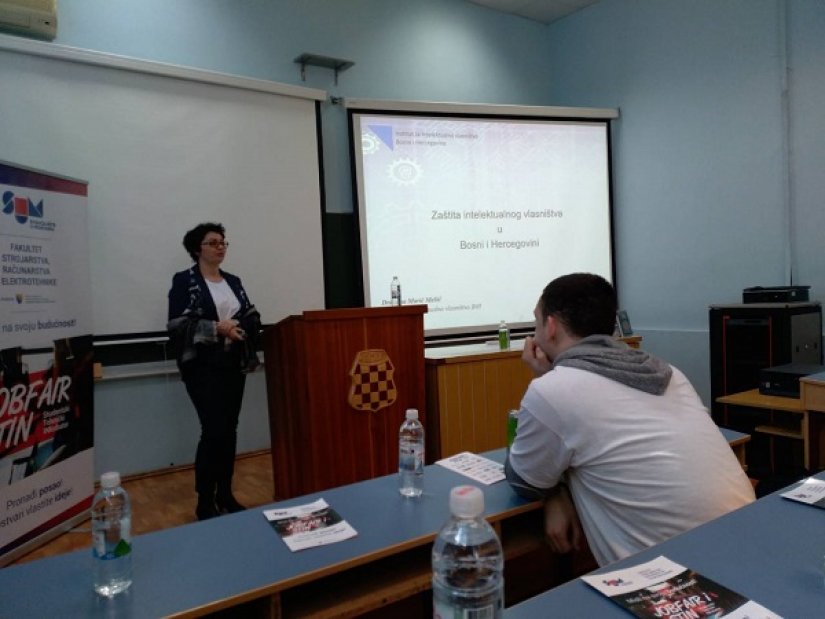 Mostar, March 6, 2018 - Senior Associate for International Patents at the Institute for Intellectual Property of Bosnia and Herzegovina Dragana Marić Mešić participated on behalf of the Institute at a two-day conference and the Employment Fair for Students and Graduates of Technical Sciences - JobFAIR, held in Mostar organized by the Faculty of Mechanical Engineering, Computing and Electrical Engineering of the University of Mostar and the Student College of the Faculty.
Senior Associate Dragana Marić Mešić held a lecture on the topic of intellectual property protection in Bosnia and Herzegovina, with an emphasis on patent protection. Future cooperation of the Institute for Intellectual Property of BiH and the Student Technical Incubator - STIN was also agreed in the form of lectures and workshops in the field of intellectual property.
At JobFAIR, mechanical, ICT and electrical engineering companies from the region and beyond presented their work, projects, technologies they use and the skills they require. There was also an introductory conference of STIN - a new initiative of the Faculty - Student Technical Incubator.