Mostar: Workshop for Wind Energy Innovators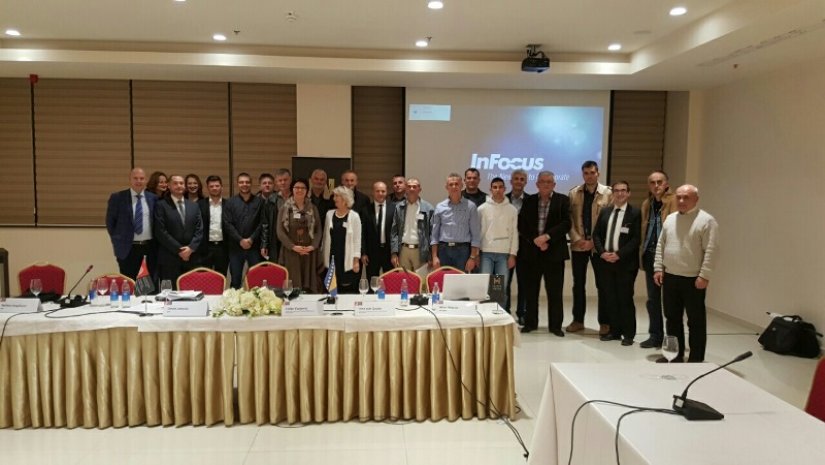 MOSTAR, November 26, 2015 – Workshop for Innovators in Mechanics with an Emphasis on Wind Energy was held on November 24, 2015 in Mostar. It was organized by the European Patent Office (EPO) in cooperation with the Institute for Intellectual Property of Bosnia and Herzegovina.
Lidija Vignjević, the Director of the Institute for Intellectual Property of Bosnia and Herzegovina and David Jelerčić of the European Cooperation, EPO, the coordinator for the countries of the region that are members of the European Patent Organization, welcomed the participants and made an introduction to the workshop. The importance of the topics of the workshop for the examiners in the Institute, who use databases on daily basis in the processing of patent applications, for the innovators who wish to search databases by themselves, and for students and future innovators was highlighted.
Stefano Angelucci, the examiner in the EPO, spoke of the trends observed in the field of wind energy patents, and of the technologies for climate change mitigation in patents. Milan Miljević, the patent examiner in the Serbian Intellectual Property Office, spoke of the way of making database search in the field of wind energy.
Haris Hasić, the Senior Assistant at the Law School of the University of Travnik made a short presentation on the experience in cooperation with universities and research centres from the recent European Progress Conference 2015 held in Vienna, and he informed the participants of the latest patents in social sphere that help mitigate the consequences of climate changes.
Irma Isak Gudelj, the Head of Patent Department in the Institute for Intellectual Property of Bosnia and Herzegovina, presented the new information-education centres to be established within the Institute that will be a significant support to the users of intellectual property system in Bosnia and Herzegovina by way of offering them a whole range of high level and well defined support and services.
Kenan Džubur, the Senior Programmer in the company Safenet d.o.o. introduced the new Patent Register of the Institute to the participants, and the manner of search for the information on legal status.
At the end of the workshop, the participants were encouraged to pose questions on wind energy and on other topics of their interest. Qualified experts answered their questions.
The workshop held in Mostar is the continuation of joint trainings of the EPO and the Institute for Intellectual Property of Bosnia and Herzegovina under the Bilateral Cooperation Programme 2014/2015 between the European Patent Organization and the Institute for Intellectual Property of BiH. The Programme also provides for the assistance in further development of infrastructure for the establishment of an effective patent system in BiH.